---
Team Organization and Budgeting
(Initial Steps)
No team is allowed to operate in an environment that is unsafe or violates university, civic, state, or federal environmental health and safety policy, or most importantly could lead to harm to any persons or facilities.
Violating policy can affect everyone involved in detrimental ways.
| Faculty and Team Member Risks | General Risks |
| --- | --- |
| Personal injury | Hefty fines |
| Loss of access to university facilities | Facility closures |
| Compromises team success disbandment | Possible civil and criminal charges |
| Potential team disbandment | Negative publicity |
Formal Safety Considerations
This section covers the formal and legal realm of safety. Safety issues are targeted through a series of rational and formal mechanisms, many of which are already in place at Cornell.
Workplace safety training certification
In order to participate in a project team, members must participate in formal safety training provided by Cornell Environmental Health and Safety (EH&S) . Required training will vary by team and is based on work environment.
Waivers of limited liability
In order to participate in a project team, there are statements that must be signed by all team members. These forms state that members understand the inherent dangers in the environment they face and that they will hold the university harmless.
On-site safety awareness campaigns
All teams must have the following in all areas: Signs for exits, fire extinguishers, emergency procedures; chemical safety data (MSDS sheets), safe handling/operation procedures, standard operating procedures (SOPís), etc.
On-site safety equipment
All teams must have the following and keep them in working order: Fire extinguishers, eye wash stations, showers, fire blankets, etc.
Inspections of facilities
In addition to mandatory inspections that will occur, teams should arrange for occasional inspections of their own (at least weekly) to ensure compliance with university, city, state, and federal safety, health and environmental laws. Teams should arrange for those responsible for violations to comply and even shut down facilities if necessary. (If violations are observed by university, city, federal, etc. shutdowns will be long term, fines are likely to exceed the team budget and the existence of the team will be in jeopardy.)
Team leaders and faculty advisors must be aware of the requirements they have to meet in their own specific environments. If you are unsure of your requirements, Environmental Health and Safety and your departmentís local facilities coordinator will likely be the best resources to talk to concerning specifics in each teamís case. Inevitably, the specific safety issues at hand are determined by the nature of the environment one is working in and the task involved.
Informal Safety Considerations
Formal and legal solutions to safety issues are important, but they are only part of the answer. Student project teams are primarily responsible for creating and maintaining safe working environments. No amount of training, legal documentation, fire equipment, or inspection can compensate for a student project teamís adopting safety as part of its everyday practice.
Realizing this goal, of course, is challenging for a variety of reasons:
"But Iíve got to try this out...Ē
Student project teams are creative and innovative groups. When thinking outside the box, student teams may face safety challenges that they have not yet foreseen, and they may be willing to face an increased risk to realize a new idea.
"It wonít happen to me...Ē
As a generally young group with little direct hands-on experience, student project teams will likely minimize the direct risk that they could face, particularly with respect to less immediate dangers (e.g., long-term chemical exposure).
"I was just fooling around...Ē
Some team members may deliberately violate common and even obvious safety issues as a way of showing off to friends, having fun, or relieving stress.
"These rules stink...Ē
When inspections and threats of closure affect team activities, members might comply in the short-term but become frustrated shortly after, going back to earlier bad habits that led to the problem in the first place.
"Iíll do it later...Ē
Most often, safety issues can be traced to simple forgetfulness. People are willing to clean up after themselves, store chemicals, organize their workspaces, etc., but by the end of the task, they are either too tired to do so, or they move on to other tasks.
Getting over these hurdles is not easy, nor is it something you can put into place through a quick training session. Generally, information dissemination is not the problemóitís making sure that information is used in daily work experience.
Here are some effective strategies to build a culture of safety:
Use peer pressure:
Safety warnings and ideas will be much more likely followed if related and enforced by peers versus outside authority figures. This is especially effective to combat forgetfulness and fooling around which may jeopardize the team.
Use faculty advisor pressure:
Faculty advisors are charged with the task of making sure teams adhere to university rules and regulations. Should peer pressure fail to work, the faculty advisor can play a strong role in ensuring compliance, especially if her/his influence is used sparingly.
Tag safety on to another issue like organization:
Team members might not see direct links between safety and their work. However, they may see the benefit of maintaining an organized workspace, which is likely to be safer than a disorganized and chaotic one. Should people be reluctant to listen to safety messages, perhaps a focus on organization would help.
Tolerate safer hijinks:
Itís fun to blow off steamóbut, like your mother said, itís all fun and games until someone loses an eye. Rather than try to control all types of fun, itís perhaps better to tolerate and encourage safer forms of fun like dodge ball, an all-team BBQ, or a team party.
Listen to team members and integrate their ideas into formal procedure:
Talk to each other about safety. Team members will intuitively know what the most common and most dangerous safety issues are and have probably derived effective makeshift solutions to prevent themselves from harm. Listening to this experience and integrating this into formal training and procedures increases team buy-in and the chance that formal procedures will be implemented in practice.
Resources:
Cornell Environmental Health and Safety (EH & S)
The main agency for safety-related issues at Cornell. Provides training for student project teams, faculty advisors and local facility coordinators on safety in the workplace, chemical safety issues, adherence to EPA/OHSA rules and regulations, etc.
FSAE Lab Checklist for EPA/OHSA adherence
An example of a checklist of things to inspect regarding potential EPA/OHSA violations in FSAE facilities is at this link. Through this kind of a checklist, a team can self-monitor potential problems and address concerns before inspectors do. Given that EPA fines start at $10,000 per violation, itís a good idea to make one of these up for your teamís workspace. Consult EH&S and local facility managers to ensure that it conforms to EPA and OHSA requirements for your facilities.
HEV/FSAE Fuel Transportation Procedure
A safety procedure designed by FSAE and HEV regarding fuel transportation to and from a remote fuel storage room.
Safety and Professional Behavior Guidelines
A statement of safety and professional behavior signed by student team members in Mechanical and Aerospace Engineering. This of course does not guarantee that these rules will be followed. However, it does squarely put the onus of doing so on both the student violating the ruleóand, perhaps more important, on his/her peers by making them responsible for the acts of their colleagues.
OHSA guidelines for small business
An idea from OHSA of what they examine in inspections. Not binding or all-inclusive; feel free to delete things that donít apply and definitely add things that might.
Financing and budgeting are tightly linked. Many sponsors will require at least a general team budget that outlines how their money will be spent. Without a good budget, teams do not know how much sponsorship is necessary, where their money is spent, or where money should best be spent. Here are a few tips on outlining budgets for internal and external audiences.
Budgeting for Sponsors
Internal Budgeting
Tips on Budgeting
Budgeting Requesting Information
Budgeting for Sponsors
Often, a team will first approach the budget question when filling out requests for sponsorship or grants. Most sponsors and granting agencies understandably want to assure their generosity will be put towards core team goals and will not be wasted.
Most sponsoring agencies will require at least a rudimentary budget outlining sources of revenue and likely major expenditures. A global budget can also be helpful for teams in determining how much money needs to be raised and in structuring requests appropriately.
The College of Engineering requires such a budget as part of its financing requests. The college does not require much information regarding particulars but does require a certain amount of functional breakdown in terms of competition, administration, and materials cost as well as alumni, college, department, and corporate sources of sponsorship. Many other granting agencies will require similar data, but they might require it to be represented in different forms. They should provide a template for you to follow in making grant requests.
Internal Budgeting
Particularly in larger efforts, most teams will find it necessary to further refine budgeting and disaggregate global expenditures such as "materials" into more specific functional blocks to better track and control expenditures and prioritize expenditures accordingly.
A good way to do this is to disaggregate budget by subteam. For example, Cornellís Solar Decathlon team requires a fair amount of resources to obtain photovoltaic arrays, because these parts are expensive, the house requires numerous panels, and the house is wholly non-functional without them. Similarly, teams such as RoboCup or Autonomous Underwater Vehicle cannot survive without significant on-board computing and custom electronics cost outlays, nor can Formula SAE or Mini Baja survive without wheels and tires.
Once core systems are addressed, the remaining expected cash inflow can be budgeted accordingly. This can help the team as a whole determine which items are priorities and which may have to be put on the back burner. Again, FSAE cannot survive without expenditures for steel for the racecar frame and suspension but could in theory forsake a lot of expenditure on composite materials by creating a less attractive but perfectly functional and legal aluminum body. This isnít ideal, but in times of tight fiscal restraint may be necessary.
An internal budget also helps to structure the activities of those soliciting sponsorships. Knowing that PV arrays are expensive, the Solar Decathlon team would want to make building industry contacts and solicit discounted or special deals with PV suppliers. Discounted or free parts can free up money that can then be spent elsewhere.
Tips on Budgeting
A few suggestions on how to create an effective internal and external budget:
Be conservative:
Expect that revenues and expenditures alike are not going to be optimal. There is no sense in creating a budget based on a host of faulty assumptions. Pay close attention to core priorities so that money is not wasted on frivolous projects that donít contribute to the goal.
Be creative:
Use the budget to determine what can be done with respect to other team priorities, particularly around monetary and parts sponsorship. Also, try to learn how competing teams meet their budget goals, but donít be surprised if this information is particularly hard to discover; many will not share such information for good reason.
Be flexible:
A budget, particularly an internal budget, is not a static document. Financial conditions and priorities will and should change over the course of a teamís efforts, and the budget should reflect that change.
Think long-term:
A sudden influx of cash (e.g., a big sponsor, competition earnings) should be seen as a means of creating some padding or enabling research and design for future years. Sponsorship can be wildly dependent on economic conditions. Granting agencies and industries in times of crisis can and do eliminate grants to worthy university projects, and future contributions from existing sponsors cannot be guaranteed. GM has sponsored Formula SAE for most of the past twenty years, but there were a few years when they did not, and the team had to learn to cope.
College of Engineering Funding Request Budget
As part of its granting procedure, the college requires that teams complete the following budget. It is a good example of an external budget that would be requested by other similar agencies, internally or externally.
Most teams need to secure their own funding both through university and usually corporate and alumni sources. Most teams would rather be doing their project as they find fundraising difficult and time-consuming, so here are a few tips to get you started. More discussion is given in the following section.
Develop a good team image
A good image increases the likelihood for success. Even if a company cannot support your team this year, they might consider sponsorship next year. If your potential sponsor is able to sponsor a limited number of teams, a good image will give you an advantage.
Research a variety of sources
Further sections offer a multitude of funding sources for your team to look into. Try to investigate several options for your best chance of success.
Connect with faculty advisors
Sometimes teams or team members are eligible for government or other research grants. It is also possible for faculty advisors to merge research grant and team interests, thus killing two birds with one stone. This is something that is best discussed and pursued with the team faculty advisor.
Sources of Funding and Resources
College of Engineering Funding
Teams can request funding directly. For more information, go to http://www.engineering.cornell.edu/student-services/learning/student-project-teams/Registration-and-Funding-Request.cfm
Student Assembly Funding
University clubs are eligible to receive a small stipend for their activities. Some teams may not be eligible, especially those that receive course credit, which is exclusive by definition and thus against SA funding rules. See http://assembly.cornell.edu/SAFC/Home for full details.
Industry Funding and Alumni Contributors
IMPORTANT NOTE: Before contacting industry and alumni, it is a good idea to talk to the alumni relations personnel in the college. Not only will they give your team good advice, they will let you know if they are already pursuing donations from particular companies or alumni. If youíre nice to them, your team could find yourself part of a larger alumni donation. If you go behind their back, you could potentially jettison a larger deal and guarantee your team considerable grief as a result.

Industry Funding
Industry will generally be receptive to requests for material and technical assistance. Some will also consider making monetary donations. Many will use your team in their promotional material.
Team Alumni Contributors
Past members are often happy to contribute to their old teams. Some of these individuals may be at companies that have matching funds to individual donations, so itís good to ask potential team alumni donators about this.

The College of Engineeringís Assistant Dean for Alumni Affairs and the Director of Corporate Relations are eager to help teams build and maintain alumni and corporate contacts and are available to assist teams in their efforts.
Look for in-kind donations from companies
Many companies are willing to help out in different ways.

Many will trade services or products in kind for testing data
Some have remnant pieces or sizes that they wonít sell to their primary market but that would be acceptable to a student team
Some offer educational discounts if asked

Donít be afraid to ask for proprietary information, test results or otherwise difficult-to-obtain products/services. Some companies may be more likely to pass along proprietary information to student research teams.
University Labs
Some teams receive direct financial and material support from labs, departments, courses, college units, etc. This is not guaranteed and usually is best pursued with strong support from the teamís faculty advisor, who will have a better idea of whom (and whom not) to talk to.
Undergraduate Research Funds
One source of potential funding is the LIFE programís undergraduate research program. Individual team members doing distinct individual research and development can apply early in the year to receive support to help finance that research. See the Undergraduate Research page for more information. http://www.research.cornell.edu/undergrad/
Fundraising Efforts
Events such as raffles, t-shirt sales, etc., can raise public awareness of your team and its efforts. Moonbuggy, for example, once raffled off an Xbox video game system. Generally, the profit margin is low and it requires a large time commitment from team members. Consider this as an outreach program more than as a revenue stream.
Private Foundations
Individuals and corporations frequently set up charitable foundations to finance worthy non-profit causes. Student project teams can qualify for many foundation grants. Application procedures and deadlines vary, as do eligibility requirements. BIG Online USA at www.bigdatabase.com is a good place to start looking.
Government and Private Sector Research support
Some teams may find themselves eligible for small grants from government research agencies like the National Science Foundation or private research grants.
Sponsorship Materials
Sponsorship materials should be attractive, well-written, engaging, and informative. The potential sponsors should have a good idea what the project is about and how they can play a role. Showing that you already have existing sponsors will give them incentive to join the list as well.
Materials can take many forms, from a simple information sheet to a complex interactive multimedia presentation. Often, alas, the medium is chosen by budget and personal limitation: most teams do not have the talent or money to create well-tested and effective promotional campaigns.
TIP: make information accessible in many forms, if possible. Cornell RoboCup, for example, gave potential sponsors CD-ROMs with video clips from the RoboCup competition. Although these clips were also available on their web site, a CD-ROM is much more convenient and immediate. Similarly, Cornell FSAE sends a sponsorship packet to potential and continuing sponsors but also has this packet available for potential sponsors who visit the Web site.
Getting Non-Engineers Involved
If all this stuff sounds like things engineers have no business thinking about, perhaps it is a good idea to consider getting non-engineers involved. One of the best business subteam leaders in recent FSAE history was an Industrial and Labor Relations major, and her successor was an Economics major. It may sound difficult to find non-engineers willing to dedicate the time and have the intellectual flexibility required to follow the gist of a teamís activities, but such people do exist. They can bring to your team a diverse range of skills and an enthusiasm to take on projects engineers stereotypically loathe, ignore, or do poorly with.
Since university engineering projects teams have especially high turnover, they need to reformulate regularly. Team leaders and faculty advisors should make sure to take some extra time to think about the dynamics of team formation, so that it can occur smoothly and efficiently.
A commonly cited and effective theory of group development is Tuchmanís (1950) model of group development. She outlines four stages of team formation
Forming
Storming
Norming
Performing
Forming: In the initial stage, the team is being created. Administrative structures and informal roles, norms and expectations are still largely undefined as team members meet each other and get a feel about what they can expect from their colleagues. The adage "first impressions create lasting impressions" fits well here. This phase generally lasts for two to four weeks in a year-long project team.
During this stage, it is important to:
Allow ample time and opportunity for team members to meet socially and discover one anotherís capabilities.
Try to foster effective interpersonal relations and mitigate any negative or hostile interaction.
Identify those who may initially appear to be peripheral and react by trying to integrate such team members early.
Try to build connections with new members, who might find it challenging to integrate into the existing social networks of experienced team members. A formal mentoring and training program can be an effective means of doing so.
Avoid excessive focus on or commitment to the core task of the group at this point.
Storming: In this phase, formal and informal leadership roles are being determined, and the groupís social network begins to take a rudimentary shape. From initial impressions, team members will informally evaluate team members, noting who is strong and weak, and orient themselves accordingly. In this phase, informal team leaders emerge, and weaker team members can recede into support roles. Initial signs of interpersonal and task conflict will begin to show in this phase. People begin to question who the leaders are, and whether they are the best at leading. Peopleís different priorities begin to become apparent. In a year-long project team, this phase can last from three to six weeks, depending on the teamís timeline and early goals.
During this stage, it is important to:
Identify and capitalize on the contributions of strong informal leaders, giving them more and more complex responsibilities and tasks.
Continue to target peripheral members and redouble efforts to get them involved in team activities
Identify and try to resolve potentially damaging or severe interpersonal conflicts early while maintaining tolerance for debate, discussion, and minor disagreements.
Note that this is one of the last opportunities to propose and implement fundamental change in team dynamics, so make the most of all opportunities to do so.
Norming: In this phase, team structures and networks begin to solidify. Team members and subgroups develop some consensus around minor disagreements and debates, and interpersonal relationships and cliques begin to take shape. Disagreements are never fully eliminated, but team members will learn effective coping strategies to deal with future disagreements during this phase and should know what will and will not be tolerated by the team and/or specific team members. Any major disagreements should be dealt with by this point; if not resolved, they threaten to stall team development and frustrate performance. This is most likely when peripheral members and those who do not fit into the overall consensus may quit the team or become minimal contributors. In a year-long project team, this phase should last until the end of the research and design phase. Problematic teams might find it extending well beyond that and, unfortunately, never fully reach a conclusion.
During this stage, it is important to:
Encourage and develop consensual solutions for minor disagreements.
Give positive and honest critical feedback on team member development.
Determine what to do about those who remain peripheral or counter-productive to team performance.
Performing: In this final stage, team members have addressed most potential interpersonal and leadership issues and can perform at optimum levels to accomplish the task at hand. They can engage emergent problems constructively without falling prey to common problems like bickering, turf wars among subgroups, or communication breakdowns. Although it is best to maximize the time spent in this phase, the team will be stronger if earlier stages are not rushed. A false consensus can quickly break under stress.
It is important to note that this is not a linear progression. Teams can and indeed most go through these stages cyclicallyófor example, when new members are recruited, new sub-teams are formed or when the teamís tasks change from design to manufacturing, or to operations.
Some parts, or subteams, of a larger team may also be farther advanced than others. Team leaders should try to make sure that all subgroups in a larger team are progressing at a relatively even pace, particularly if the subgroups must collaborate. Collaboration and communication will need to be actively emphasized and encouraged. Team leaders should also pay special attention to members who appear to be regressing into earlier stages due to new challenges and crises and work to get them back on track.
In any high-intensity work group, personal or professional difficulties will arise. If these are not attended to, these difficulties can seriously jeopardize the mission of the team as a whole. It is important to realize symptoms of this early and work to resolve issues. It may even be necessary to dismiss certain dysfunctional members, but this should be done with care and as a last resort.
Dealing with team members who are underperforming or compromising team development can be the hardest challenge for team leaders and faculty advisors. Given the intensity of many of these teams and the close professional and personal bonds formed, it is truly difficult to deal with situations where interpersonal and professional conflicts jeopardize the teamís success. Often, team leaders will wonder what they did wrong to let a situation spiral out of hand.
Symptoms and Causes of the Peripheral Team Member
Underperforming team members manifest themselves in many different ways. Itís important to understand the problems specific to each case, but there are some general patterns one can use to detect those who may be falling through the cracks.
Symptoms of underperforming team members include:
Prolonged unexplained absences:
Many underperforming or peripheral members will avoid the team and its activities.
Frustration and hostility:
Conversely, other underperforming members might lash out at others, rightly or wrongly.
Lack of motivation:
When around, underperforming team members will likely show less interest and enthusiasm for their tasks. It is also possible that their work will be not up to the teamís expected standards.
Warnings from the grapevine:
Often, you might not see or hear much about potentially peripheral members directly, but youíll likely hear stories and gossip about them. This is usually a sign that something is going wrong and the underperforming team member is causing collective stress.
Clique formation:
In particularly bad cases, collections of like-minded people will distance themselves from the rest of the team. This can happen among both underperforming members and core members alike, splitting a team into warring parties.
The root causes of underperforming team members are even more complex to unpack. Common causes include:
Interpersonal issues:
Although it is not necessary for all team members to be best of friends, interpersonal tensions and outright hatred of other team members will inevitably sour overall team dynamics and lead to one or many people becoming less dedicated to the team as a whole.
Motivation issues:
Team members with little to no motivation to do whatís assigned to them are likely to become bored and frustrated with the team and its efforts and not perform up to expectation or their potential.
External issues:
Many times, school and personal issues external to the team are at the core of someoneís problems. Often, these problems cannot be solved by the team itself, but the faculty or team can help by referring team members to academic or personal counseling, which can help an underperforming team member to successfully deal with these issues, sometimes while remaining a valuable member of the team.
Peer Evaluations as a Strategy for Diagnosis
Whatever the root cause of peopleís lack of integration into a team and its activities, early detection and constant monitoring are the best ways to fix the problem.
Peer evaluations can help determine who is strongest and weakest across a range of dimensions. A 360į evaluation allows all team members to anonymously give suggestions on how all team members, including themselves and faculty, are performing and how they can improve. This is easily done through a simple spreadsheet listing all team member names in rows and asking for a 1-5 rating on a variety of possible categories, which can include:
Reliability:
Is the team member reliable in getting work done on time and well?
Task/skill:
Is the team member seen as possessing skills valuable to the team?
Attitude:
Does the team member exhibit a positive attitude towards his or her work and others on the team?
Innovation:
Is the team member one who consistently pushing the envelope regarding team practices
Leadership:
Does the team member take the initiative in leading or coordinating various projects?
Once the data is collected, it is important that one or more leaders go over each memberís evaluation with them. It is particularly important to take actions and make positive and encouraging suggestions. In many cases, a team member might be strong on one or two dimensions but weaker in others. In such cases, the team member should be encouraged to pay more attention to weak areas and be commended for what they do demonstrate aptitude in.
Even a quick conversation with underperforming team members should yield information regarding the causes and symptoms associated with the problems they are facing. There is no simple answer on how to fix these problems, and again perhaps some problems are outside of the ability of the team to fix, but the effort is always worthwhile, even if unsuccessful.
Dismissing Team Members
It is sometimes necessary for a team and an underperforming member to part ways. This should be done with care, however, and only after consideration with respect to other solutions to the problems at hand.
In particular if any person leaves because of their or the teamís dissatisfaction, the team will inevitably move back to the ďFormingĒ of team development and from there have to again progress back to where they were.
In most cases, a team member who is sincerely displeased with the team will want to quit before the team has to take action. This should not be encouraged hastily but certainly should not be stopped if it looks like the right solution for all involved.
A rush to judgment on quitting/firing a team member not only causes a loss of a potentially valuable member but also does not solve the root problem at hand and tends to place all responsibility often on the person leaving. Organizations that exhibit a great deal of attrition of this sort are generally dysfunctional. Simply purging people and getting new ones does not guarantee the new people wonít feel/do the same, and it will be increasingly harder to attract good team members in the future. Should this be a problem, team leaders and faculty advisors need to think hard about why the team consumes people and work to fix anything in the system that causes this to occur.
Training and mentoring programs are great ways of getting new and less-experienced members up to speed. Training involves relaying specific skill sets to others, whereas mentoring is more of a structured support and guidance role to help mentees with a range of questions.
Mentoring involves formally designating a one-on-one professional relationship. Usually this is done between someone with experience and a new team member; however, mentoring can be quite effective and similarly necessary for experienced team members moving to new levels of responsibility such as team leadership or subteam leadership.
Like mentoring, training involves skilled team members teaching less-skilled members. However, training is usually limited to areas of specific skill where there is a precise goal and progress that can be monitored and evaluated. Training is particularly handy with respect to basic skills (e.g., how to purchase items on the teamís account, learning to use basic machining tools such as the mill and lathe) but also could be extended to more complex skills (e.g., how to weld, how to use a particular CAD program).
Both mentoring and training take some work to set up and to track, follow-up, and keep working well. It is important that faculty push the leaders to plan mentoring and training. Often they may feel it is too much trouble to set up and run a training program or some leaders may feel their mentoring is unnecessary or too invasive.
Mentoring
The mentoring relationship is relatively unstructured compared with the more formal training relationship. Generally, the mentor has no specific deliverables, nor does the mentee have any specific take-away lesson. The relationship is meant to be a productive, partly social one in which the mentee learns through engagement in the mentorís discussions and tasks. The mentor can provide information regarding the teamís culture, history, and standard practices and help guide the mentee through any problems he or she may have fitting into the organization.
The menteeís main responsibilities are to learn, ask questions, make mistakes, receive feedback, and generally soak up as much expertise and experience from their mentor as possible. Mentees should also feel free to ask critical questions and challenge the mentorís knowledge or skill, particularly later in the mentorship cycle.
Although the relationship between mentor and mentee is unstructured, there are some good guidelines to consider when implementing a mentoring program:
It is important to choose compatible mentors/mentees.
Compatibility can be by field of interest or by perceived social fit. Inevitably, those who are good social matches will hang out anyway. Starting that through a formal process can be effective for new recruits in particular.
Integrate mentor/mentee responsibilities into the team structure.
Mentors and mentees should not be assigned and forgotten about. The responsibilities mentors have for their mentees (e.g., checking up on progress, working on collaborative projects) should be integrated into team organization so feedback from mentees can be acted upon. Mentees should also have the ability to comment on mentors so that they can learn from their mistakes.
If a mentor/mentee relationship is not working, donít be concerned but consider reassigning mentors.
After some time, it might become clear that, for personal or professional reasons, there is little contact between mentor and mentee. Most of the time, this is simply because of lack of free time, laziness or lack of understanding of the responsibilities of either party. Sometimes, it is due to an intractable personality issue that threatens to jeopardize the menteeís integration into the organization. In either case, it is best to reassign mentees to other mentors if the relationship looks like it isnít going anywhere.
Training
In a training relationship, it is important to consider what goals are to be met, what activities are best suited to relay the skills required to achieve those goals, and how attainment of those goals can be measured. This is especially important to consider in complex training where the deliverables may be more complex and harder to evaluate. For example in Emerson Machine Shop training students have to manufacture a lamp.
In addition to formal goal-oriented considerations, it is extremely important to be patient and encourage questions at every step in the training process, otherwise both the trainer and the trainee will get frustrated and the process will break down.
Wright & Belcourt (1995) offer six steps to on-the-job training that are quite clear and effective.
Show the trainee how to perform the job.

Be sure to break the job into manageable tasks; present only as much as can be absorbed at one time.
Remember that individuals learn at different speeds; some may absorb six or seven concepts at once, others two or three.
Tell why as well as how.
Point out possible difficulties as well as safety procedures.
Encourage questions.
Repeat as necessary; be patient.

Repeat and explain key points in more detail.

Safety is especially important.
Take the time to show how the job fits into any larger systems.
Show why the job is important.
Show why some key points are more important than others.
Encourage questions.
Repeat as necessary; be patient.

Allow the trainee to see the whole job again.

Ask questions to determine level of comprehension.
Encourage questions.
Ask the trainee to perform less difficult parts of the job.
Try to ensure initial success to increase confidence.
Donít tell how; again at this stage but encourage questions, answer them and try to keep frustration low.
Repeat as necessary; be patient.

Allow the trainee to perform the entire job.

Gently suggest improvements; keep feedback positive.
If necessary, repeat until the trainee becomes more comfortable.
Encourage questions.
Trainee begins to work alone.
Tell when and where trainee can find help if required.
Supervise closely at first then taper off as the trainee gains in confidence and skill.
Repeat as necessary; be patient.
Resources
Wright, P.C. & Belcourt, M. (1995). Down in the trenches: learning in a learning organization. The Learning Organization, 2, 1, 34-38.
Most student project teams depend on a high degree of commitment from team members. Although many team members receive course credit, the amount of work required from team members usually substantially exceeds that of a normal course. Keeping people motivated and morale high is essential to maximize both the amount and quality of team member effort. Poor team morale can compromise dedication and motivation and seriously jeopardize the potential for success. Except in rare cases, substantial and active attention needs to be given to building team morale and motivation.
Depending on the particular student team leaders each year, the faculty advisor may have to frequently remind or suggest to the student team leaders to plan and schedule morale building activities, evaluations, feedback, and encouragement to team members.
Intrinsic and Extrinsic Motivation
There are two general types of motivation in organizational settings: extrinsic and intrinsic. Both methods are relevant to and important for student team projects.
Extrinsic motivation is tied to outside influences like grades, awards, performing well in competition, etc. In the business world, elements like salary, pension, stock options, vacation time, etc. are examples of extrinsic factors. Extrinsic motivation can also be seen as wanting to avoid punishmentóso, fear of missing outside deadlines, achieving a defined level of quality, fear of retribution from leadership or other team members, etc., all qualify.
Intrinsic motivation is more elusive but much more effective. An intrinsically motivated team member performs the task enthusiastically and voluntarily. He or she may do so because of a variety of factors: the challenge of resolving interesting problems, an appreciation of the quality of the work environment, enjoying working with friends and colleagues, etc. Generally speaking, an intrinsically motivated team member will work effectively to deadline with little pressure or supervision. They not only know why itís important but are enthusiastic and excited about doing it.
Given the difficulty of building and maintaining such motivation, however, appropriate rewards, punishments, and milestones are usually also necessary to structure tasks and keep people on track. Also, intrinsically motivated people may, in following their instincts, be tempted to keep exploring new challenges and therefore could jeopardize deadlines (e.g., competition deliverables, parts needed by other team members, etc.) that are non-negotiable and final. Thus, the faculty advisor and team leaders also need to be sure that all the overall goals are obtained, not just those that are most interesting to the team members.
General Considerations
There are many ways of building and maintaining morale and motivation, and there is no guarantee that any one way will work given a particular team or set of individuals. Things that work one year might bomb the next; strategies that work well with some individuals might alienate and de-motivate others. Care must be taken to monitor the effectiveness of any morale and motivation intervention. Leaders should be flexible and realize that well-thought-out plans may need to be changed or dropped entirely if they prove to be ineffective.
Things to consider in any morale - and motivation - building exercise are:
Morale and motivation are cyclical.
Inevitably, not everyone is going to be "up" all the time. There is a natural ďroller coasterĒ effect in morale as large projects progress. Particularly near the end of the design phase, morale can be difficult to maintain as people are making tough decisions about their efforts and are anxious to move to the development phase. Similarly, after high-intensity periods (e.g., manufacturing deadlines, post-competition), you can expect a lull. Conversely, the energy and motivation levels during manufacturing and in preparation for team competition tend to be high. In times of ebbing morale, try to boost enthusiasm, but donít be too surprised by lukewarm results. In times of strong morale, little maintenance work will be necessary. It may be just as effective to remind team members that good times are ahead.
Gauge the mood and personality of your team to plan appropriate activities.
MTeam leaders should try to plan activities that people will find fun and check to ensure that theyíre not proposing things that only they might find fun. Listen to feedback from team members as to what may be fun for them. Also realize that some activities (e.g., going to bars) are necessarily all-inclusive, because only some team members will be eligible to participate. Itís alright to have some morale-building activities that some people canít or wonít participate in, but if anyone is regularly excluded they will feel out of the loop.
Monitor morale levels through team evaluations.
Team morale can be measured through peer evaluation, weekly reports, etc. For example, FSAE generally holds peer evaluation twice in each semester. This provides a formal means of gauging morale and identifying those team members who may be dissatisfied, or whose peers feel are not working effectively.
Monitor morale levels through informal checking
A good supporting technique to formal methods is informal interaction. Team leaders should strive to check up on all team members from time to time informally to inquire about their tasks and see how they are fitting into the team. It is very important to solve any problems noted as soon as possible.
Specific activities to build morale and motivation vary but could include:
Team parties, dinners, barbeques, movie nights
Team outings (e.g., paintball, go-carting)
Office pools
Intramural sport teams
Off-topic/humor e-mail lists
Tokens of appreciation (e.g., "hardcore" team member awards)
Maintaining task-based intrinsic motivation is more difficult but can be done through:
Encouraging engagement in tasks (make it clear that everyone has a role to play)
Making sure the task is demanding (not so challenging as to be too difficult, not so easy that itís boring)
Building effective subteams (encouraging good communication and positive relations among subgroups)
Acknowledging and rewarding accomplishment by letting individuals and subteams who do well know their work is appreciated Ė sometimes called, ďcatching them doing something rightĒ
Giving constructive feedback in private (not berating groups publicly for failure to meet quality or deadline goals, offering positive and progress-oriented advice early to fix problems)
---
CUAUV History
One of the team's objectives is the AUVSI/ONR Underwater Vehicle competition, held each year in San Diego, California. They are a long time competitor and have a tradition of excellence. Their 2010 competition vehicle, Tachyon, took first place out of 27 international teams at the competition this past summer. While the team has placed in the top ten every year, this past year was the third time that they've won the overall competition. The team has also placed 1st in technical design for the last nine years.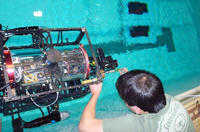 Related Resources